There are many factors that you must consider when choosing the right type of A4 paper.  Important aspects should include, the feel, the weight, colour and what is best suited to the machine you are using.
Types of A4 Paper
– Volume Copier & Laser A4 Paper – this paper is ideal for every day photocopying and printing in the office.  It's low cost is perfect for internal black and white print jobs such as reports.    
– Premium A4 Paper – Compatible with most machines, laser printers, photocopiers and fax machines. Premium A4 Paper is ideal for colour printing, presentations and external communications. Remember to carefully consider the right paper weight for a superior look and feel. 
– A4 Coloured Paper & Card – Eye-catching colourful paper is ideal for mailings, presentations, notices, filing, colour coding and more.  Suitable for use in all laser, copier and inkjet machines. Packaged in clear moisture resistant wrappers for easy identification.
– Photo Paper & Speciality paper – Print your photographs from your inkjet printer with excellent results
When ordering paper remember:
1.  The whiteness of paper is measured in CIE and the higher the number the brighter the page is.
2.  Paper is weighed in GSM (grams per square meter), the higher the number the thicker the sheet is.  For everyday internal printing and photocopying most businesses choose 80gsm paper.  It is recommended to choose a higher weight of paper for external communications in order to convey the right message.
A4 Paper is the most popular paper size purchased by businesses in Ireland. A4 paper is produced by a multitude of global brands ranging in quality, price & specific use. Our most popular A4 paper is Q Connect 80gsm copier paper which we can offer highly competitive prices & next day delivery anywhere in Ireland. Depending on the A4 paper you require our supplies team can help you source the correct A4 copier paper you need. 
Paper weight is often the deciding factor when choosing A4 paper as 80gsm is the most popular & provides quality output. The higher the paper weight (gsm) the higher the quality. Please note small LaserJet printers may not be able to process heavy paper weights above 120gsm. If you need any assistance in choosing A4 paper please do not hesitate to contact our supplies team. 
A guide to paper sizes and weights for estate agents marketing materials.
One very important consideration that often gets overlooked when deciding on your marketing materials is the size and weight of the paper to be used for the print run.
More than likely you will have invested quality time with one of our designers to get your design just right. Together you may have laboured over every element of the design including your body copy, images and the tone of voice that you want your target audience to hear.
Despite all this, the quality of the paper used to print your project and its format will often provide the FIRST impression for your customer. Before they even turn the cover page of your company folder or brochure they may make a decision based on the perceived quality of your chosen paper.
Before they reach down to the doormat to pick up a pile of leaflets does yours already jump out at them as it is an irregular shaped leaflet compared to the others, ie. panoramic or shaped?
Does your company brochure feel just that bit more tactile as it has a nice matt laminated finish to the outer cover and is square in format as opposed to A4, which is the most commonly used format in print?
Another consideration is that the weight of the paper will be the main factor in determining the final weight of your brochure and this could impact on the delivery cost of your brochure if you have decided on doing a direct mail campaign.
Standard size formats obviously play a major part in print production and help to keep costs down and are therefore often the go-to products to meet the average budget. Standard size products fit in standard envelopes for example, but don't let that constrain you.
Here at Prestige Creative we have already worked out what we consider to be the best combinations of paper weights and sizes, amount of pages and finishes for all of our off the shelf estate agency marketing products and as a result you get high quality products that always give out the right impression, but at very competitive prices.
OK, well having said all that let's take a little step backward and take a look at standard paper sizes in a little more detail. You will undoubtedly be familiar with the aforementioned 'A4' paper size. It is the size of the paper your office or home printer uses and it is the size of letters that you send and receive in the post. But what about A5, and A3, and DL for that matter – and what sizes are posters?
On the surface of it paper sizes can be a little puzzling with all these seemingly unrelated letters and numbers. Once you become familiar with what the numbers and letters stand for and how they relate to one another you will be relieved to know it all becomes rather simple.
Hopefully the below animation will help to demystify standard paper sizes.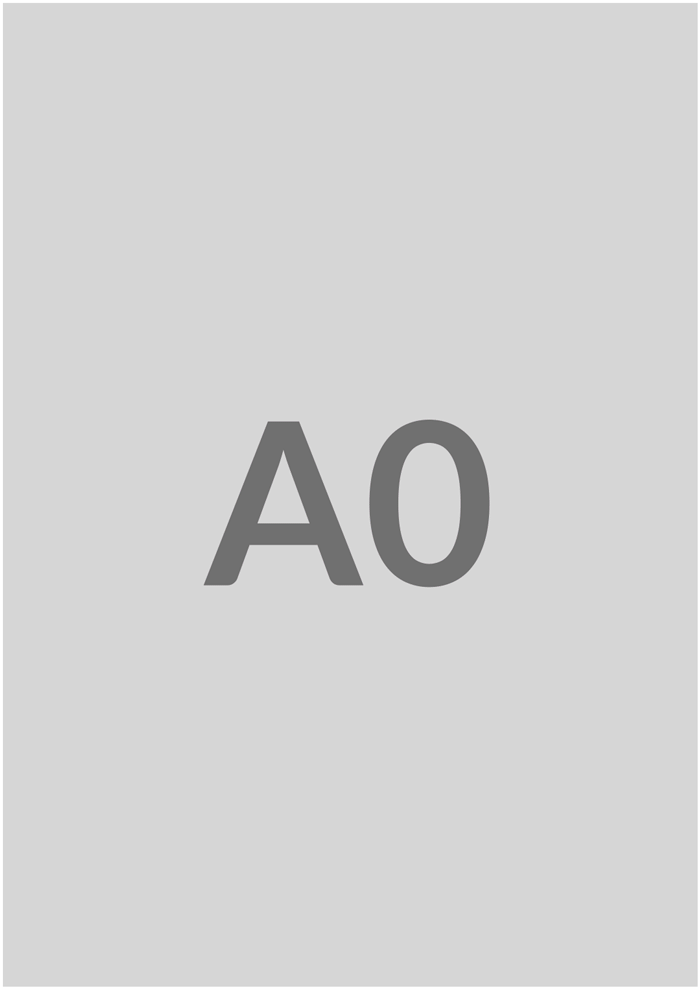 Successive paper sizes in the A series
The base A0 size of paper is defined as having an area of 1m².
Successive paper sizes in the series A1, A2, A3, and so forth, are defined by halving the preceding paper size across the larger dimension. This also effectively halves the area of each sheet.
The dimensions for each size are as follows:
Size    Width x Height (mm)
A0   –   841 x 1189 mm
A1   –   594 x 841 mm
A2   –   420 x 594 mm
A3   –   297 x 420 mm
A4   –   210 x 297 mm
A5   –   148 x 210 mm
A6   –   105 x 148 mm
A7   –   74 x 105 mm
A8   –   52 x 74 mm
By the way – DL is 1/3 of an A4 sheet. (210 x 99 mm). This is the size of standard compliment slips.
And posters? Well, we here believe that you need to be looking at at least A3 size and above to qualify as a poster.
To drill down deeper into this subject and to explore the lesser known 'B and 'C' series of paper you can find out much more here.
Paper weight is measured in grams per square metre or GSM as it is more commonly known. This allows you to understand the weight of paper. In general, the higher the GSM rating the heavier and thicker the paper will be.
Weights are easy to calculate as well: a standard A4 sheet made from 80gsm paper weighs 5g (as it is  1⁄16 of an A0 page, measuring 1m²), allowing one to easily compute the weight—and associated postage rate—by counting the number of sheets used.
5 – 55 gsm: This is very thin paper indeed and you will find your daily newspaper will commonly be printed on this paper thickness.
90 – 100 gsm: This is the weight of the copier paper that you will find in your office or home printer. The stuff you might pick up in packs of 500 sheets at the Staples office supplies. It is also used for your NCR (no carbon required) agency agreements.
110 – 120 gsm: This weight is usually used for stationary for things such as letterheads and compliment slips and also for posters.
130 – 170 gsm: Getting slightly heavier now this weight can be used as internal brochure pages, more durable posters and budget leaflets.
210 – 300 gsm: Moving up to what is now considered to be card stock. At the higher end of this scale, when an A5 leaflet is held horizontally between a couple of fingers you will get a slight bend in this paper. Magazines in newsagents will have covers made from this weight of paper stock. 300gsm is Prestige Creative's preferred weight for quality, professional leaflets.
350 – 400 gsm: This definitely is card and will stand up under its own weight. Premium quality leaflets and magazine covers will be printed on this weight. Business cards also are printed on this stock. Prestige Creative use 450gsm as standard for our business cards and we also include a 'soft touch laminate' to both sides as well – but more about finishes later. We also offer a super heavyweight 600gsm business card as well! Our standard folders are also printed on 400gsm card and include matt or gloss laminate to the outer cover.